High-Efficiency Technologies For Manufacturing, Compounding, and Plastics Recycling
At Plastindia 2023 (February 1-5, 2023, Pragati Maidan, New Delhi, India), Coperion – technology leader in extrusion and compounding, bulk material handling and feeding systems – will present innovative solutions and new developments at Booth 7H-FP-C-3 to greatly increase the efficiency of polyolefin manufacturing and engineering plastics compounding.
Together with machine manufacturer Herbold Meckesheim – recently merged with Coperion – various processes and plant solutions for reclaiming plastics of all kinds will be on display. These complete systems for mechanical and chemical plastics recycling stand out for their high levels of automation, conscientious use of resources, and the extremely high product quality they achieve.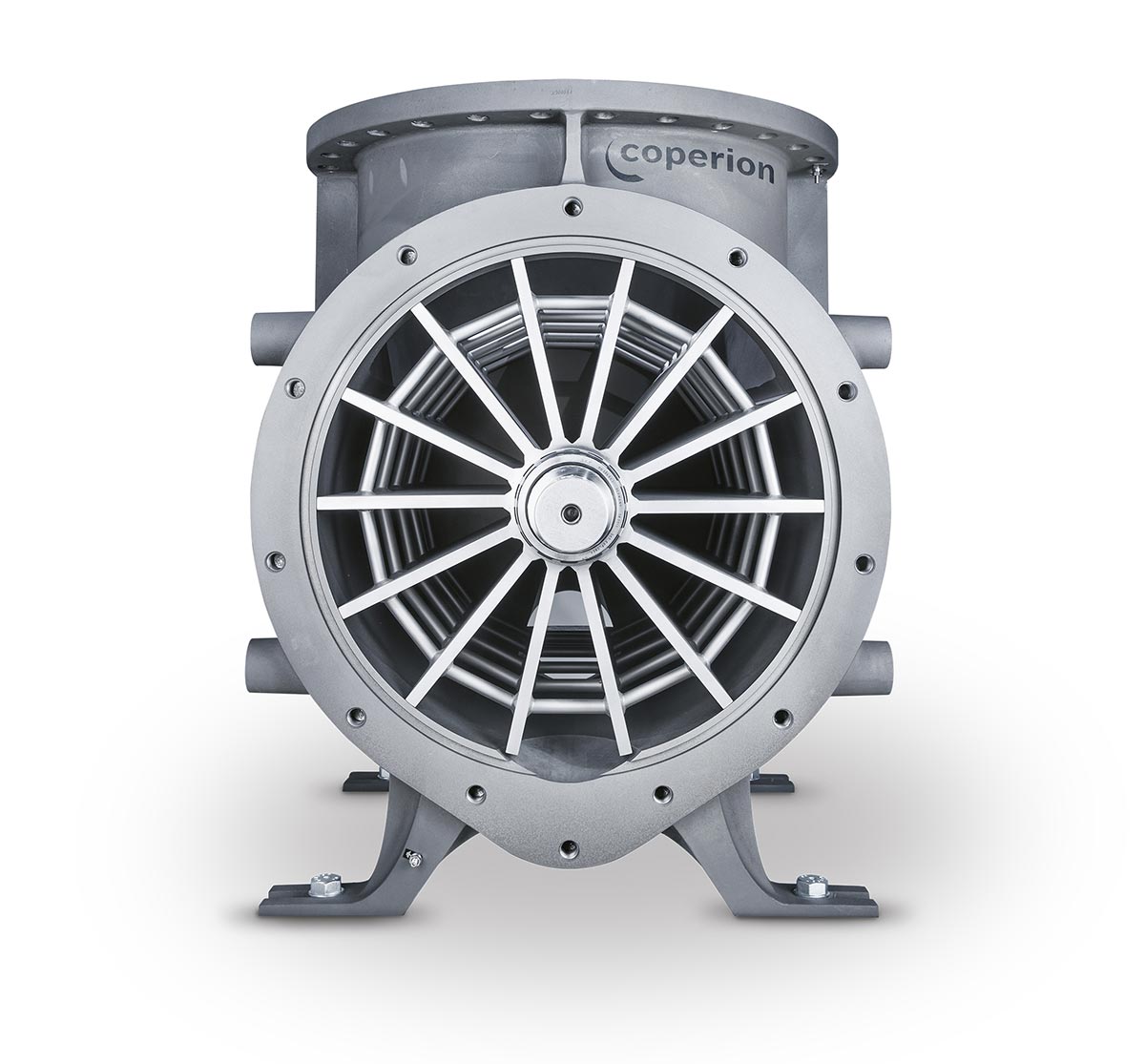 The especially low-leakage ZXQ 800 rotary valve is ideal for powder intake into the pneumatic conveying of high-output systems used in polyolefin manufacturing.
Photo: Coperion, Stuttgart Germany

Innovative Developments in Polyolefin Manufacturing
Whether for continuous stabilization, homogenization and pelletizing of LLDPE, HDPE or PP powders, or for concentrating melt solutions, Coperion possesses comprehensive process expertise in polyolefin manufacturing. From handling and feeding additives to extrusion and devolatilization, pelletizing and conveying, Coperion has successfully implemented countless polyolefin manufacturing plants with the highest throughput rates and very high product quality.
One new Coperion plant concept now allows the energy-efficient incorporation of recyclate into polyolefin production. Conventional polyolefin manufacturing processes using recyclates require three steps: preparation of new material; mechanical recycling with filtration and pelletizing of the waste plastic; and mixing the two product streams. Coperion's new process solution allows mechanically recycled and filtered melt to be added directly into the extruder where the new material is manufactured. Energy-intensive mixing and melting of the new material stream and PCR compounds are completely eliminated, significantly dropping investment and operating costs.
Another highlight of Coperion's presence at Plastindia will be the ZXQ 800 rotary valve. Coperion developed this high performance, low gas leakage valve especially for powder intake into pneumatic conveying up to 3.5 bar. With its enormous capacity, it is optimally suited for high-throughput polyolefin plants.
Super-Efficient Compounding
Along with polyolefin equipment, Coperion will be demonstrating versatile uses of its technologies and process expertise in various compounding tasks at Plastindia 2023 – from filling and reinforcing engineering plastics and masterbatch preparation to bioplastic manufacturing. Compounding with Coperion's ZSK and STS twin screw extruders, as well as material conveying and feeding, stand out for their very high degree of automation and efficiency. Thanks to its high specific torque of 18 Nm/cm3, the ZSK extruder achieves very high throughput rates with comparatively low energy consumption. Bulk material handling is extremely gentle on product and raw material feeding is highly accurate. Product changes can be accomplished in no time, increasing overall equipment effectiveness (OEE).
Emblematic of its first-class technologies for compounding, Coperion's ZRD 200 rotary valve for discharge and metering of powders as well as the WZK 100 two-way diverter valve will be on display.
Additionally, the T35/S60 Quick Change (QC) feeder with the 2415 pellet receiver will be available to view. The QC feeder is suited especially for applications requiring maximum flexibility in feeding and material changeover. It allows the feeder unit, including the screws, to be quickly and easily removed and installed. The single screw feeding design handles free flowing powders, granules, pellets and other free flowing materials. The twin screw design is ideal for floodable powders and more difficult, sticky or hard-to-flow materials.
With the preconfigured ProRate PLUS feeder in size S, Coperion offers a robustly constructed, continuous gravimetric feeder at a very good price-to-performance ratio, perfect for economical, reliable feeding of free-flowing bulk materials.
Complete Plastics Recycling Plants From A Single Source
Coperion and Herbold Meckesheim realize entire plants for plastics recycling. From mechanical processing – shredding, washing, separating, drying and agglomerating of plastics – to bulk material handling as well as feeding and extrusion all the way to compounding and pelletizing, their systems cover the entire process chain for reclaiming plastics.
Coperion and Herbold Meckesheim achieve solutions for mechanical recycling of post-industrial and post-consumer waste, chemical recycling, solvent-based recycling, and deodorization, tailored to the type of plastic being recycled. Together, they will be showing a PET recycling plant simulation at Plastindia, demonstrating their expertise in numerous plastics recycling processes. Booth visitors can look directly into entire process steps and view the construction and functionality of key technologies.
Coperion's ultramodern Recycling Innovation Center demonstrates the importance of plastics recycling for Coperion. It is currently under construction right next to Coperion's existing Test Center for bulk material handling at the Niederbiegen/Weingarten, Germany, production facility. In this new Test Center, dedicated specifically to recycling applications, Coperion will advance its industry-leading research and development in an environment where every major process stage can be tested under production conditions and put through their paces by customers prior to making an investment.

With complete systems from a single source, Coperion and Herbold Meckesheim are setting new standards for plastics recycling.
Photo: Coperion, Stuttgart Germany
About Coperion
Coperion (www.coperion.com) is the global market and technology leader in compounding systems, feed systems, bulk goods systems, and services. Coperion develops, produces, and services plants, machinery, and components for the plastics, chemical, pharmaceutical, food, and minerals industries. Coperion employs 2,500 people worldwide in its two divisions: Polymer and Strategic Markets and Aftermarket Sales and Service, as well as its 30 sales and service companies. Coperion K-Tron is a Coperion brand.
About Herbold Meckesheim
Herbold Meckesheim (www.herbold.com) is a leading recycling specialist and produces machines and plants for processing pure plastic waste from the industry as well as used, mixed and contaminated plastics. The modular system solutions for automated recycling lines are tested in the company's own technical center. More than 240 employees at the headquarters and the staff of the international agencies accompany custom-made plants and machines from the conception stage through commissioning to the end of their commercial use.
Editor contact and copies:
Dr. Jörg Wolters, KONSENS Public Relations GmbH & Co. KG,
Im Kühlen Grund 10, D-64823 Groß-Umstadt
Tel.:+49 (0)60 78/93 63-0,  Fax: +49 (0)60 78/93 63-20
E-Mail:  mail@konsens.de,  Internet:  www.konsens.de